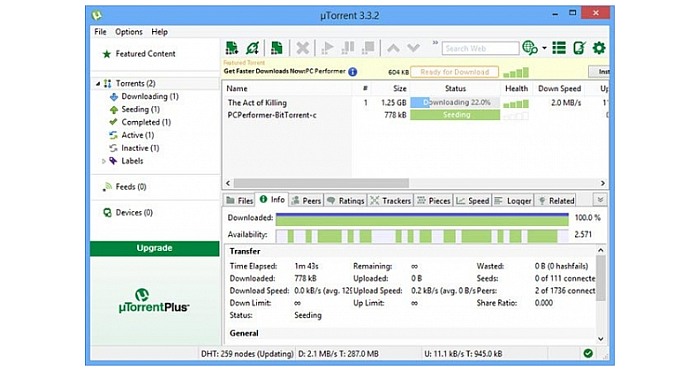 Give uTorrent software a try, if you are looking for a good BitTorrent client. uTorrent software has what other available BitTorrent clients have, like Mainline DHT, bandwidth management, scheduling, including extras such as an exceptional protocol that detects and corrects for heavy traffic.
The animated ads for games in addition to other software keep uTorrent free. However, the developer of this software warns of fakes that charge for subscriptions or software.
Features
DHT fixes and updates
New installer updates
Network traffic reduction
What Makes uTorrent Software Unique
1- uTorrent software is easy to set up
Although you may have to carry out a manual configuration of uTorrent in other security or firewalls applications, the setup wizard of this software can automatically add an exception for uTorrent in Windows Firewalls. uTorrent could be set to begin with Windows as it is useful for scheduling downloads.
2- Easy to Use
uTorrent is easy to use because a customizable user interface allow users to display quite a lot of buttons and information or keep it clean with just the fundamentals. A web page, forums, FAQs, Help and other resources are at hand, while Tabs manage Speed, Trackers, Ratings, Peers, Info and Files.
3- RSS Feeds
The RSS auto-downloading makes for quick feed updates.
Cons
Ad-heavy – uTorrents are geared toward young male adults and a number of the online services they advertise might not be suitable for some users.
Copyright issues – It is against the law to use any P2P network, technology or BitTorrent to download or post copyrighted materials like games, movies and games, which uTorrent made clear with a note in the setup process. For instance, music and video producers often post exclusive clips and tunes in promo bundles.
The fact here is that heavy users might require more than the free client offers of uTorrent, but with the usual caveats about P2P sharing, those people that are left will find it more than sufficient.